Archive for the 'Uncategorized' Category
Date Posted: 12/12/12
In this feature, each month artists share one thing that excites them creatively.
One key piece to support healthy, productive creativity is stimulating inputs. What kinds of things stimulate the creative centers of the brain? What kind of inputs stimulate us visually? Emotionally? Spiritually? Mentally? Physically?
I'd really like to know, what's one thing that fills your creative cup? Share with us in the comment section below.
What Inspires You?
Dave Reid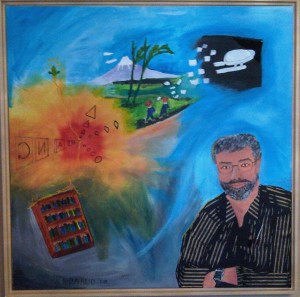 I'm inspired by science (nanotechnology, for example), colour, other cultures, history (West coast native art is great), form and sky. Often one thing will lead to another; I'm working on some pictures for an upcoming show – one picture took an abrupt turn, which I followed and am now learning new aspects from this.
Dave Reid
What Inspires You?
Sean Glenn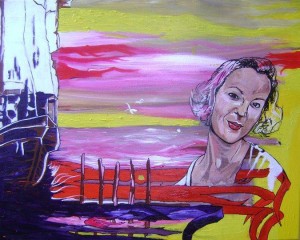 Life is what inspires me: the authenticity of each emotional experience lends validity to each brush stroke. What inspires is sometimes the pain that comes with living, it's joys, it's sorrows, it's triumphs and  it's losses. What inspires me is love.

Sean Glenn

http://www.wix.com/blacincworks/blacin-art
Date Posted: 11/22/12
Isn't it frustrating (and expensive!) to waste paint? I've got a video for you with my favorite tips on how to save acrylic paint on your palette after your painting session. Please feel free to post your comments or suggestions!
Date Posted: 11/7/12
In this feature, each month artists share one thing that excites them creatively.
One key piece to support healthy, productive creativity is stimulating inputs. What kinds of things stimulate the creative centers of the brain? What kind of inputs stimulate us visually? Emotionally? Spiritually? Mentally? Physically?
I'd really like to know, what's one thing that fills your creative cup? Share with us in the comment section below.
What Inspires You?
Linda Ursin

What inspires me?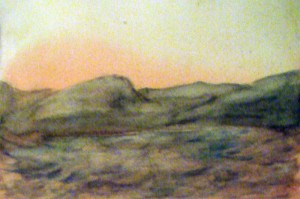 Anything and everything. It's hard for me to pick one. I can't really say I know where it comes from. I'm multi-creative, which means I create in many different ways.
Linda Ursin
Website: heksebua.com/linda
What Inspires You?
Leo Anderson

What inspires me?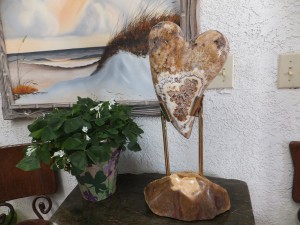 Ideas come from everywhere. God gave us a lot to work with and putting it together in a unique way intrigues us all. Make notes. Your mind is full and universal mind has all – so take notes on what comes to you. It doesn't matter if you're working on a thing or not. Put a date on it. Do everything you do perfect because it's all only single steps. Nature is full, observe!

Leo
Date Posted: 10/19/12
When I first switched over from oils to acrylics years ago – I was always trying to get away from the "plastic-y" look they had.
Then I discovered the array of gels and pastes that could take the standard paint texture from creamy to stiff to sandy to matte.
The two I show you in this video are still in my all-time favorites list.
Hope you enjoy it and let me know your thoughts! Have you used these before? What are your favorite acrylic gels? Any techniques you'd like to share?
Date Posted: 09/27/12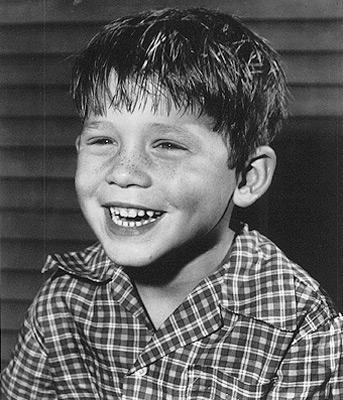 I've got nothing against Ron Howard, really. Opie was a cute kid. But, forgive me, so far I can't stand anything directed by the man. I find his style sappy and emotionally overwrought.
OK. That's about as critical and mean-spirited as you will hear me get publicly. I even struggled with using the word hate in my title. In truth, I don't hate anyone but I'm trying to make a point here.
I picked Ron Howard because I know he can take it and I know he's probably a really wonderful and totally sincere guy who could care less what I think. And he has touched millions of lives with his work over decades of service as an actor, writer, director and, producer.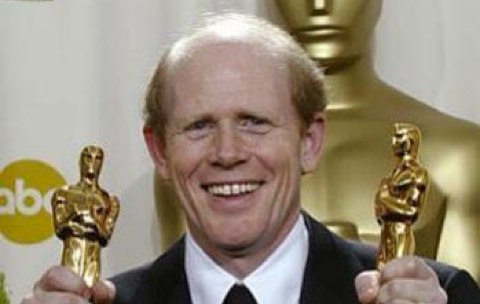 In fact, I'm certain many of you LOVE Ron Howard. (And if I insulted you with my opening paragraph, I apologize.)
I know many of you love mushrooms, too.
Can't stand 'em myself.
What I am trying to stay here is taste is purely subjective.
And that's all it is. Taste.
Feel free to ignore the people who will try to tell you their taste is the taste. The correct taste. (Ahem – art teachers, professors and critics.)
As you send your work out into the world, some people will LOVE it.
Some will hate it.
Some will say "Meh."
That doesn't mean your work is good.
Or bad.
Or even Meh.
It's just your work. It's the work you do.
So when everyone is patting you on the back and giving you shows and buying your work it doesn't necessarily mean you are brilliant.
And if NO one is paying attention and you continually get rejected neither does it mean your are an idiot who should give up and go do something else.
It means nothing.
It's just ego stuff.
Because you love this thing so much – creating, making, innovating, birthing new projects.
To continually evolve and pull ideas from deep within.
To craft and hone and love them.
Your work is a gift of love to the universe and to yourself. (You are, after all, an integral part of the universe.)
Keep on, friend.
Date Posted: 06/22/12
Wherever you are right now as an artist, I am here to remind you that you can do this.
It may not always be easy and it may not always be smooth but if you keep at it you will experience joys and rewards you could not have dreamed of from where you stand right now.
It may not always look exactly like you dreamed it would, but the life you aspire to is waiting for you.
I just wanted to make sure you remembered this.
Your work means something. There is a place for your work in this world. No matter what kind of work you make, there are people out there just WAITING for you work.
Really.
There hearts are longing for what you and ONLY you can give. Just as there is no one in the entire world who looks quite like you, there is no one in the whole entire world who can create what you do.
Your work is important.
Please remember that.
Now, go get in the studio!
Date Posted: 06/1/12
A few months ago, a friend invited me to join at women's fitness challenge group she was forming.
Participating has radically changed my yoga practice  (In addition to getting me more in shape and encouraging me to do even more cardio.)
I have been practicing yoga for 27 years now.
I've had dozens of amazing teachers over the years. I've gone through periods when I went to 3- 5 classes a week and periods when I've just practiced on my own.
I've had times when I stepped away from it temporarily.
But mostly, I've practiced daily for all these years.
But I need to admit something to you.
There are poses I just have not really progressed in.
I can do a mean triangle pose but I've never been able to do a full vrischikasana (scorpion) without assistance: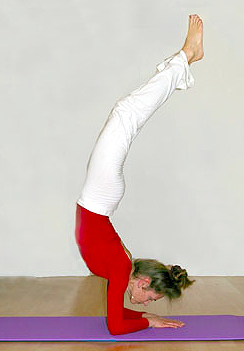 or bacasana (crow pose):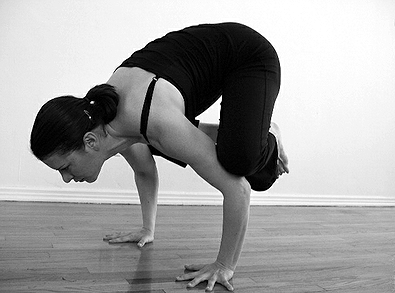 I just haven't built the upper body strength.
So that has been a big part of my commitment with the fitness challenge – to work on my upper body strength.
And I have. I've been doing poses all on my own that I shied away from. And it's all due to the support of this wonderful group of women.
I am so grateful to them.
So what does this have to do with you? And with your art?
Is there an area of your art life and career where you haven't been challenging yourself?
Have you been coasting? Staying with what's familiar or easy?
I heartily recommend gathering a group of like-minded individuals around you. You'll be amazed at how motivating it is.
Some people call this a Mastermind – a group in which the power and intelligence and motivation of the group far exceeds that of each individual.
That's why I always build a group forum into the Mindful Artist Mentorship Program. I have experienced first-hand what an enormous difference this makes and now I wouldn't want to be without it.
When you are discouraged or needed advice, you have the group to turn to.
You cheer each other on during trying times.
You celebrate victories!
You encourage each other to stretch for excellence.
You will also help each other to recognize when your goals are unrealistic or when you are being too hard on yourself.
Here are six steps to create a similar group to turn your dreams into achievable goals:
1. Select the people you invite carefully. Make sure you find some folks who are equally committed. People who aren't committed and don't participate can drag the energy of the group down. People who are committed and enthusiastic lift the level of participation and energy in the group to a remarkable degree and really make it work.
2. Set a time specific time frame for when the group will start and end. This way people can jump in and fully commit even when they are very busy. They know it's not a forever commitment but chances are many will want to continue.
3. Set manageable goals and make your commitments to each other. I realized my first set of goals was unrealistic after reading everyone else's and I ratcheted it back a notch or two. (By the way it feels much better to exceed your goals then to not meet them.) and feeling good about yourself is self perpetuating it makes you even more motivated to achieve.
4. Designate a day for a weekly check-in via email. I actually don't recommend trying to meet in person unless you all have oodles of time and live close to each other.
5. Create a simple form of questions for your weekly check in. – I'll share our fitness form here for an example: 
Name:
Week #__ of 12:
Did I reach my goal?
How did the week feel/ how did it go?Any changes I would like to implement?
6. Have a simple way to connect between your weekly check-ins– a facebook group is free and works really well for this.
Have you ever experienced the power of a group to propel you forward? Share in the comments section below.
Date Posted: 04/11/12
Boredom is very important. Boredom is the origin of any good idea.
– Francesco Clemente
Interview with Charlie Rose August 20, 2008
I have so many ideas and so much creative energy I cannot remember the last time I experienced boredom. On the advice of one of my mentors, I've decided this year to focus on a single body of work (Well, I need to complete some other projects first, but believe me, I have completely stowed away some works-in-progress because my tendency is to go off in a million directions!) I'm actually kind of excited to see if I experience some boredom in the studio and I'm wondering where it will lead me.
What do you think? Does boredom help you or hinder you? Please share your thoughts below. I'm curious to know.
Date Posted: 04/5/12
Yesterday, I needed to show my assistant Sarah how to create tabs for my drawings. I thought, hey! might as well share my technique with you, too!
Let me know what you think and  also let me know if there are any other topics you'd like me to cover in a video tutorial.
Date Posted: 03/14/12
A dear artist friend of mine recently finished a major commission. (SO excited for her and proud of her!) However, she mentioned she's feeling a little let down after all the hard work she put in to get it finished on a tight deadline. She's left with that feeling: Is that it?
It reminded me of a story I heard about an artist who achieved the distinction and recognition of being included in the Whitney biennial in her early 20s- an achievement that many contemporary American artists covet and aspire to. And yet, as she was riding the bus after the opening and she described an empty feeling and a similar thought. So that was it?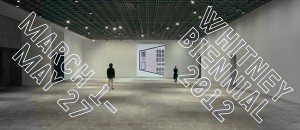 (Depending on where you are right now with your career you may be saying to yourself, If only I had such problems!)
But this kind of post-event let down brings up a question all of us face: Why are we doing this stuff in the first place? Because I'm sure many of you, like me, have these benchmarks – things we want to achieve because we think we'll feel better when we get them.

I'll be really happy when…
I get in that gallery.
Someone buys my work.
I get in the Whitney Biennial.
We might get so caught up in reaching that goal, completing a body of work or preparing for an exhibition that we forgot to feel happy with where we are right here and now. We may neglect to appreciate the present moment and our current situation.
I know in my own life I have had different dreams for my art. For instance, when I was in my 20s I always wanted to travel abroad for my art and have shows in different countries. I dreamed of exhibiting my work in museums. Now that I've achieved these things I want even bigger things. I want to be in bigger museums and better known venues. I compare myself to others who have achieved things I have not and I forget to appreciate all that I have created and all that I have achieved. This isn't good enough. What's next?
There are always things to appreciate no matter where you are in your career. It's great to always be looking forward and to have big dreams visions and goals to help us move forward.
But actually the true joy and excitement is in the day-to-day!
We live only in the present moment.
Honestly, nothing else exists. Everything else is just dreams (the future) or memories (the past).
We got in this racket to enjoy the creative ride!
Every dream or goal is to inspire some kind of fun action that we can savor while we are in the moment.
Moment by moment by moment.
Contrary to popular myth it's not about some kind of arrival, some pinnacle, some accomplishment.
Think for a moment about all the unfulfilled dreams and wishes you have currently for your creative or professional life. Now ponder what exactly is it that you hope you will feel when you've achieved this dream? Will you feel more successful? Will you feel happier because you'll feel validated as an artist? Will you feel better when your work is recognized? Or that other people will take you more seriously as an artist?
Is there a way you can validate yourself right now? How can you appreciate or recognize yourself as you are in your current s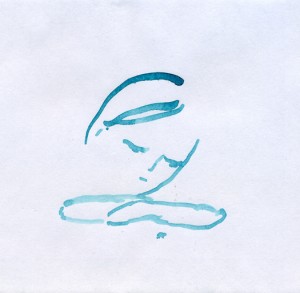 tate?
Now, pause to savor this very moment. Breathe deeply. Feel your body against the chair, hear the hum of your computer. Receive the sounds around you near and far. The drip of the faucet, a bird, the neighbor's thumping bass? Notice the colors and textures in your vicinity. Close your eyes and allow a faint smile to lighten your lips. Can you keep breathing and relaxing until you can touch on the exquisiteness and the preciousness of this present moment?
I'd love it if you'd share in the comments below something small (or big!) that you treasure and cherish in your current life. Be it the fact that you are blessed to have a box full of art supplies to make your work, or the fact that you have a space to work in or the fact that you have these gifts or skills or you have a family member or a friend or a teacher who is supportive of your endeavors.
Isn't it wonderful that I have this connection to my creativity?
How great it is that I have had ideas and new ones keep flowing through me!
Isn't it sweet that I am reading this article because I'm committed to supporting myself mentally, emotionally spiritually as a creative person?
Whatever it is, I invite you to appreciate that now and do not let go of your dreams!